Ever Wonder How YouTubers Make Millions of Dollars?
We break it all down in our new podcast. After you click the button below hit the
"Listen On Apple Podcasts" link and subscribe to discover the truth.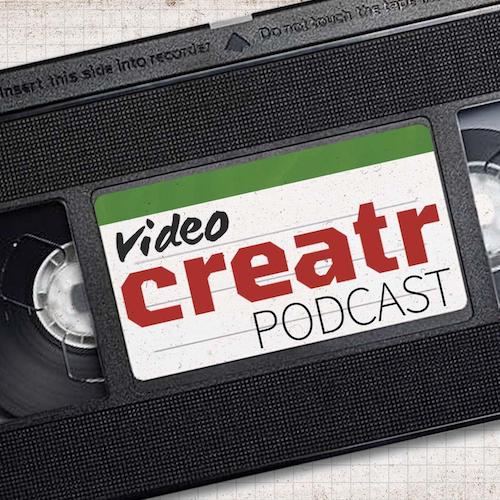 Following the big names in marketing and content creation can be intimidating. It seems like they're constantly creating new content. They've got hundreds of thousands, if not millions of followers, and have a large team supporting their content creation needs. But how did they get there? Firstly, they all started at zero. Secondly, most use video marketing and content repurposing when regularly publishing to keep a steady flow of content on their platforms.
When you're getting started, it can feel frustrating, overwhelming, and seemingly impossible to create that much content or generate those types of numbers. It's true; you've got an uphill battle. You need to attract people to your brand, establish credibility, convert visitors to buyers, and create long-term relationships with customers to grow your business. The most popular method of making this happen is through consistent content creation. But how do you create so much content regularly? We're going to explore the ins and outs of content creation like a seasoned professional.
Why You Should be Creating Content
People can't buy from you unless they know you exist. Properly SEO-optimized content drives traffic to your website. It means your content needs to be showing up in search results. Video content is growing more in popularity for the consumers, and you can streamline the process by using a video editing service.
How much content do you need? Your content goals include building trust and brand awareness. Since our world, especially the shopping world, is digital, the horror stories of bad online shopping experiences make it even more important to build trust. Video content lets you build trust with your audience through their customer journey (before, during, and after) a purchase.
Dr. Jefferey Lant created the 'Rule of Seven' that says, "to penetrate the buyer's consciousness and make significant penetration in a given market, you have to contact the prospect a minimum of seven times within an 18-month period." While 18-months seems like a long-time, don't get discouraged. Lant's 'rule' doesn't mean it applies to everyone and everything. But, it does show that you very likely will need multiple touchpoints to convert that prospect into a purchaser.
As we dive into this more, you'll see how you can create content like an expert without spending hours creating it or even thousands of dollars hiring a big team of copywriters, graphic designers, and podcast producers. Instead, you'll discover how simple it is to create multiple pieces of content (10+) from one 10-minute video on YouTube.
Why You Should be Creating Video Content

Arguably one of the biggest marketing and content creation machines, HubSpot, emphasizes the importance of video in your marketing and content planning. "Video is no longer just one piece of your overall marketing plan. It's central to your outreach and campaign efforts." HubSpot says on its blog, "If you aren't creating video, you're likely falling behind,"
Video content is essential to your content and marketing plans. But Big question is how to create so much content with ease?
This is where a video editing service like Vidchops comes in. Once you've recorded your video, speed up the process and streamline your work by outsourcing the video editing to vidchops.com. It only takes a few clicks, and your video will be ready in 2 business days or less.
Okay, so video content is essential. But if you're only posting your video on your website, that's only one piece to the puzzle. YouTube continues to dominate video content. According to Statista, 2021, YouTube has nearly 2.3 billion users worldwide. "Not only is YouTube the second-most popular social media platform, but it also holds the same title for search engines." People specifically visit YouTube and search for content because they want video content. "YouTube processes more than 3 billion searches a month. 100 hours of video are uploaded every minute. It's bigger than Bing, Yahoo!, Ask and AOL combined."
In addition, there are multiple methods from those YouTube videos for content repurposing.
Creating a Plan

Just like any effective strategy, it takes planning to be effective with video marketing and video repurposing. So, to get started, create a plan of what you want to achieve with your content.
Brand awareness
Driving sales
Launching a product
Educating prospects
Engagement
Once you've nailed down your primary goals, creating a short video is the best starting point for content repurposing (about 10 minutes). We all know YouTube is filled with how-to videos, and this is a great starting point for many getting started with video marketing. It's often easier to make these types of videos because you're talking about something you've got expertise in, so you convey confidence in the subject. Even if you're a bit nervous about being on video, talking about something you have lots of knowledge of can carry you forward.
Creating a Video
While you could spend thousands on a videographer or buying expensive camera equipment, microphones, lighting, and more, it's not necessary. Especially in the beginning, keep it simple. Ideally, your final video cut will be 10-15 minutes. Of course, there will be some outtakes or b-roll footage, but the essential elements will be on the short side. This reduces pressure because you do not have to film hours of footage; you can film your video in an hour or so.
If you need help in creating videos, read our Step-By-Step Guide For Creating YouTube Videos That Work!
Video Editing
Congratulations, you've got your first 10-15 minute video created. So what do you do with it? A little editing can go a long way, and it doesn't have to be expensive or time-consuming. Services like vidchops.com offer a 2-day turnaround and flat-rate fees, so there won't be any surprises. We'll even include royalty-free stock audio and video footage plus lower third titles and transitions for every video.
Because you'll be using this video in multiple ways, your starting product must be of stellar quality. So even as a beginner with professional video editing, your raw footage gets transformed into trust-building, high-quality content with music and visual effects that draw the viewer in and keep them connected to your content and your brand.
Next Up, YouTube

Uploading your video to YouTube is only a few clicks away. But to maximize your video content, don't skip the optimization steps. Focus on creating a compelling video title because your title is what makes people click when they see your video listed. Next, create a 200-500 word SEO-friendly video description. YouTube uses the video description for the search results, so it's worth spending the time doing it right (or hiring an inexpensive virtual assistant to do it for you).
Vidchops.com also offers a YouTube helper plan to publish and optimize your videos for YouTube, including creating captions for Instagram. Your video marketing becomes much easier with inexpensive resources like this to maximize your video content that can deliver results for your business.
Video Repurposing

Now that your video is on YouTube, it's time to start repurposing that content. It's the foundation for your content repurposing. Start the process by transcribing the video. Services like Rev.com or Temi.com offer inexpensive transcription options. Always remember to review the transcript, though!
If you need humanly verified subtitles, Vidchops can help you here as well.
You'll be able to use the transcript in multiple ways, including adding the closed captioning file to your YouTube video. Not only does this accommodate people with hearing difficulties, but many people also watch videos without sound, so they'll still get the video content. "A survey of U.S. consumers found that 92% view videos with the sound off on mobile and 83% watch with sound off, according to a new report from Verizon Media and ad buyer Publicis Media." Since your primary goal involves watching your video, making it easier for people to view your content will help you build your following. Plus, you'll keep them connected with your video content with this option enabled.
Blogging
Pulling the transcript helps with the next stage of your content creating machine. Now, you'll use the transcript to write a blog post. To do this, clean up the transcript and transform the content from a direct transcription to a related blog post. Since many people like video and reading, embedding your video into your blog post further enhances the experience for your prospects. It adds even more trust, building that relationship with potential customers because they can read the content and watch your professionally edited video.
As you're creating this content, you always want to optimize as much as possible—research keywords to include in your YouTube description and blog post. NOt only will this help your content show up in search engine results, but it also confirms you're on the right track with your content creating machine. Your optimized YouTube video and keyword-friendly blog post work together, boosting your search engine results.
In addition to your entire blog post taken from the transcript, you can even create smaller (though a little less SEO-friendly but still helpful to your brand building) posts that showcase key takeaways. For instance, let's say your video lists 10 steps to writing a blog post. Take those 10 steps and break them into sections or separate posts. Let's say the first 3 are about research; create a short post on research with a couple of different takes on your original post. It won't take long, and you've made a brand new post related to your original blog entry with a different twist on it.
Podcasting

Another way to use your original video is by creating a podcast episode with it. Separate the audio from your final video, and repurpose it for a podcast episode.
If you don't already have a podcast, the good news is that's it's easier than ever to start a podcast. First, as always, start with a strategy. Then, go back to the original goals you created. Next, create a concept for your podcast from these goals – what plans do you have specifically for your podcast?
Your podcast theme or topic will likely match most of your video content, making it a more straightforward process to marry your original 10-15 minute video to your specific podcast. Other steps include naming your podcast, choosing a format, etc. Since you've already recorded your video, you've got many of these steps already completed.
Social Media
Now social media is where we get into the meat of video repurposing. Social media opens the door to parsing out your video content into multiple posts on different platforms. Let's explore the various methods for repurposing your video content.
Graphics
Whether it's yourself, a virtual assistant, or you hire an inexpensive graphic designer to create some social media templates, creating a consistent branding experience will help you share your content while building brand recognition. For example, using your brand colors and fonts with graphic design software like Canva.com creates a cohesive look and feel to your social media content.
Graphic Type 1: Quotes
Pull inspirational, intriguing, and thought-provoking quotes from the video. When using these quotes, your graphics show it's a quote and name the person you're quoting (likely yourself). Then, choose a photo or graphic style that matches the feel of the quote.
Graphic Type 2: Video Excerpts or Snippets
Take very short clips from your video to entice people to watch your YouTube video, read your blog post, or listen to your podcast episode. Don't forget to include fun captions over the video for those not listening to the sound.
Graphic Type 3: Text Excerpts
This type may seem the same as pulling quotes, but it's pretty different. A text excerpt takes the video content and shifts it slightly to create a new, shorter version. It's not a direct quote but a repurposing or retelling of a key takeaway.
Where To Post
When considering where to post and developing your social media strategy, let's look at the realities of each major social media outlet. Choose the social media outlets where your prospective customers hang out, especially if it allows you to repurpose your video content. Keep building trust and improving your relationships with customers by providing quality, valuable content that is engaging, informative and keeps driving your goals home.
Facebook
Since there are literally billions of people on Facebook each day, creating engaging content with Facebook makes sense. Use video excerpts and more to draw people's attention to your quality content. Video is highly successful on Facebook, but you can also post any other type of content and keep people hoping to see what you'll post about next.
Instagram
Unlike Facebook and Twitter, Instagram requires a video or image but still has flexibility with Stories and live video functionality. It also has a massive audience, so there's a good chance some of your audience is on Instagram. In addition, your experience in creating videos can help you through video editings services to repurpose your video into Instagram stories or for the Instagram feed.
Twitter
Twitter, a microblog, delivers quick bursts of content you pull from your original video (either using the video transcript to make it simpler and more accurate or the video itself). Twitter encourages video posting, so along with your tweet, include a portion of your video. The blog post you've generated offers other options for tweeting your content into bite-size chunks and enticing people over to your blog or your YouTube channel.
Pinterest
Pinterest, like Instagram, requires graphics for posting. Pinterest continues to grow and gives you yet another chance to showcase both your video and your blog. One of the critical differences between Pinterest and the other social media platforms is that it has the reputation of turning browsers into buyers. Take advantage of this mentality by repurposing your content onto Pinterest to encourage your products or services sales.
Don't forget to encourage people to share your content on their social media too. Of course, YouTube has the "share" option displayed for every video, but ask people to share your content on your blog, podcast, and social media posts.
Next Steps
Remember, to know your progress with your content; you've got to review your metrics too. Tracking your progress on YouTube, your website, sales, followers, and more will help you see which content types and topics people are engaging with and are helping you grow your business.
So now you've got the start of building your content machine from YouTube videos. You're creating blog posts, a podcast episode, and multiple social media posts in different formats and with other content extracted from your original video.
While you began with a short, high-quality, professional video, you are upping your business image, brand awareness, education, and sales through sharing your message across multiple platforms and mediums. The more methods you use to share your message, the better.
Whether your business is just getting started or you've been in business for years, it's easier and quicker than ever to dive into video marketing and repurpose those videos for your content machine. With some strategic planning, you can create many pieces of content, build your brand awareness, establish trust, and grow your sales from valuable content. So, imitate the experts and start today, creating short videos that offer multiple forms of content and ways to connect with your audience in a meaningful way.