Ever Wonder How YouTubers Make Millions of Dollars?
We break it all down in our new podcast. After you click the button below hit the
"Listen On Apple Podcasts" link and subscribe to discover the truth.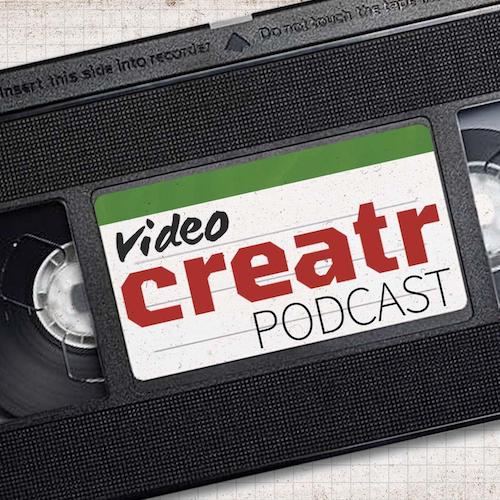 Video marketing is indispensable in 2021 and if you're not doing it yet, you're going to want to start immediately. This guide will tell you everything you need to know to create and implement a winning video marketing strategy – step by step.
Why You Need a Video Marketing Strategy
Part of the reason why video is such a brilliant approach marketing approach is that it is effective in both hard and soft ways.
Intuitively, a video just makes sense. After all, there's a reason why it's consumers' preferred way to learn and take in information and why, by 2022, online videos will make up more than 82% of all consumer internet traffic. First, video is more engaging than simple text or still images. Instead of only touching on one sense, video engages audiences both in visuals and sound, creating a more lasting impression and allowing you to show, not tell, what you're all about.
Video also offers the opportunity to show your brand's personality and build trust by showcasing the human side of your brand.
Because there's nothing that people can connect to more than other people and human faces. That's how you can create an emotional response. And this is crucial because ultimately, it's the emotion that moves people to make decisions. While you may think that people make purchasing decisions on the basis of research and numbers, more often than not, it's because they associate the product or service with a desirable emotion.
Finally, video has an unrivaled ability to explain and teach, which is incredibly useful if you want to educate about your brand or use educational content to draw in audiences to your website and increase brand awareness.
Not convinced yet? Well, hard data backs up everything we're saying here. Because video can offer:
The bottom line? Video marketing works.
How to Create a Video Marketing Strategy
Okay, now you're all in. You're ready to invest in video marketing by creating a strategy that will help you grow your business. But how do you do it?
1. Define Your Video Marketing Goals
The first and perhaps most important step of developing a video marketing strategy is to create defined goals. After all, you can't be strategic without specific aims to shoot for. So go over your company's goals and see which of them can be helped with video marketing. (Hint: it will probably be many of them.)
Each video marketing goal you make should be directly tied to a larger company goal so you know that there is a reason behind what you are doing.
Additionally, you want to create goals that are specific, easy to measure, attainable, and bound by time, so you know how to incorporate it into your schedule. That is to say, "Create a lot of videos" is not a good goal. "Create and publish one video on our company's Facebook page every two weeks for the first quarter of the year" is a much better one.
2. Research Your Target Audience

Another important point of consideration to help guide your video strategy is who your target audience is. After all, the videos you make for an audience of American kindergarteners will be very different from the videos you make for an audience of European college students majoring in biology, even if the topic of the video itself is the same.
A natural approach is to target your videos toward your company's target audience. But you may find that there will be different target audiences for different platforms and different types of videos. For example, an explainer video you post on your website's front page will have a different audience from a video educating your customer about how to use their new product, which will have a different audience from a video seeking to attract job candidates to apply to work with you. Regardless of what the video is, you must know who it is for before you create it.
3. Decide What Kind of Videos You'll Make
As we alluded to above, there are many different kinds of videos you can include in your video strategy, including:
Explainers
How-to videos
Company culture videos
Thought leadership videos
Promotional videos
Testimonial videos
Demonstration videos
Each of these video types has different strengths and requires different amounts of effort and investment, so you can use your goals and your budget to help you determine which video types you want to create.
4. Set a Video Budget

Speaking of budget: you need one. Because making videos does cost money, although it can really range from very DIY and affordable to more professional and costly. Potential items to budget for include video equipment, locations, production, and editing.
The good news is that you don't have to rent out a huge video studio if you don't want to spend the money.
In fact, you can easily set up a
home studio
in your home or office that will allow you to make a wide variety of videos. See our guide "
How to set up a studio at home
"
As for as editing goes, freelance or in-house video editors can range greatly in price depending on their location and experience. If you want a more consistent pricing scheme, you can use a service like Vidchops, which offers multiple video editing service subscription plans at an affordable price that streamlines the video editing workflow.
5. Think About Your Video Campaign Strategy
The next step will be to figure out the campaign strategy for your video content. This is essentially a question of how you want to release your videos into the world. Will you post primarily evergreen videos that remain relevant in perpetuity from the day you first release them, like videos explaining who your brand is?
Or do you want to create more focused campaigns that are relevant for a limited period of time, like promotional videos for a sale you are having or a video invitation to an event your company is holding? These will have a shorter shelf life and generally will be retired after the run of their campaign. Both strategies have their strengths, and it is up to you to decide if you want to focus on one, the other, or a combination of both.
6. Figure Out Where Video Content Will Live

Now, you'll need to answer the question of where you are going to release your videos. These days, posting your video content to social media is a no-brainer, but it's worth noting that all of the different social platforms require different formats, which can be a bit tricky to balance in the editing and encoding process. To make it easier, Vidchops offers a service that helps to create different social media versions of videos that can be uploaded to all social platforms including YouTube, Instagram, LinkedIn.
Beyond social media, it may also serve you to post videos directly to various pages on your website, like your blog, your home page, your "about me" page, and different product pages. Additionally, you can put videos in email marketing campaigns and your FAQ and knowledge base pages.
7. Measure Your Performance

Once you've followed the above steps, you're well on your way to having a successful video marketing strategy, but there's one more step that you absolutely must take: measuring your performance and adjusting your strategy accordingly. The good news is that you should have already set yourself up for this in the goal-setting step when you set measurable goals.
So whether you're tracking click-through rate, time spent on your pages, numbers of sales leads, video views and comments, or all of the above, keeping a close eye on the performance of your videos is crucial to helping you understand if your video marketing strategy is succeeding. If it's not, that will function as a sign that you need to change something. And if it is, you'll know that you can continue in the direction you're already going. Without numerical data to indicate how your videos are performing, you'll essentially be going at it blind which, it goes without saying, is not ideal. So measure, adjust, and repeat.
With these seven elements, you'll be all set with a solid video marketing strategy that can help you reach your business's objectives. So what are you waiting for? Go ahead and get started with step one.