Ever Wonder How YouTubers Make Millions of Dollars?
We break it all down in our new podcast. After you click the button below hit the
"Listen On Apple Podcasts" link and subscribe to discover the truth.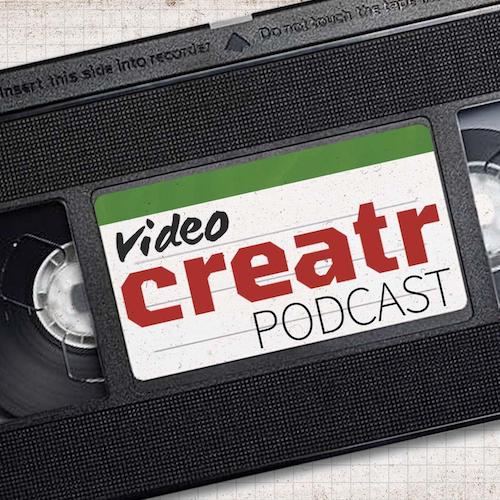 Celine lives in Toronto and makes lifestyle videos (mostly Vlogs) about life. She tries to cover different topics that are relevant and realistic to the lives of young people in their 20s. She first created her channel in 2011.
Way back then, she was into arts and crafts videos, which she says she was very passionate about. But somehow, she decided to quit YouTubing (something she continues to regret).
Guess why she quit?
She suddenly felt embarrassed at YouTubing. Can you imagine that? When I thought YouTube was a big deal, someone decided to quit it for such a flimsy reason. I would have spanked Celine for that if I were her class teacher. By the way, can a teacher spank their students?
With hindsight, the friendly lady admits she shouldn't have paused her YouTube career and that she feels more embarrassed now for quitting what was fun (and a potential money spinner) for her.
By 2018, she had overcome her embarrassment mentality to purchase a camera that would kickstart her second attempt at YouTubing.
Last year (precisely on January 8), she launched a comeback into YouTube videos with arts and crafts making way for lifestyle. The first video of her comeback, "Weight loss & fitness journey | before & after, dieting, body image" garnered just 1.7k views. Not much, huh…?
…still more than all my rat video viewers, even while she was away.
Luckily, Celine had a head start to meeting the requirements for monetization eligibility.
How, you may ask?
Well, in her previous YouTube stint, she managed to achieve one of the key monetization requirements – 1000 subscribers.
So, what's left now is to meet the other key requirement – 4,000 view hours within 12 months or a million shorts views within 90 days. I'm still struggling to meet both requirements, by the way… Can somebody help, for goodness sake?
Celine started creating shorts in the fall of 2022 but still prioritizes long videos because she reckons that 4k view hours is more achievable for her than a million shorts.
Between January 8, 2022, when she bounced back, and March 22, 2023 (four days to her birthday), when she finally became eligible to make money on YouTube, Celine made 44 videos and 19 shorts. The following day (March 23), she earned her very first YouTube income – $2.25. Her best day did not arrive until exactly one month later (April 23), when she made $4.59.
So what are her top performing videos?
5. work vlog | day in my life (marketing account manager, WFH) – 8.6K views and $2.29 within one month.
4. what I eat in a day | healthy habits & easy recipes, high protein, pescatarian diet – 5.4K views and $5.18 within one month.
3. plan with me | How to make a digital planner (free + easy), good notes & digital planning tips – 28K views and $5.62 within one month.
2. Mexico travel vlog | Cancun vacation, all-inclusive resort & destination wedding – 8.3K views and $11.51 within one month.
1. new vlog camera | unboxing Sony ZV-1 vs. Canon G7X Mark ii – 104K views and $50.50 within one month.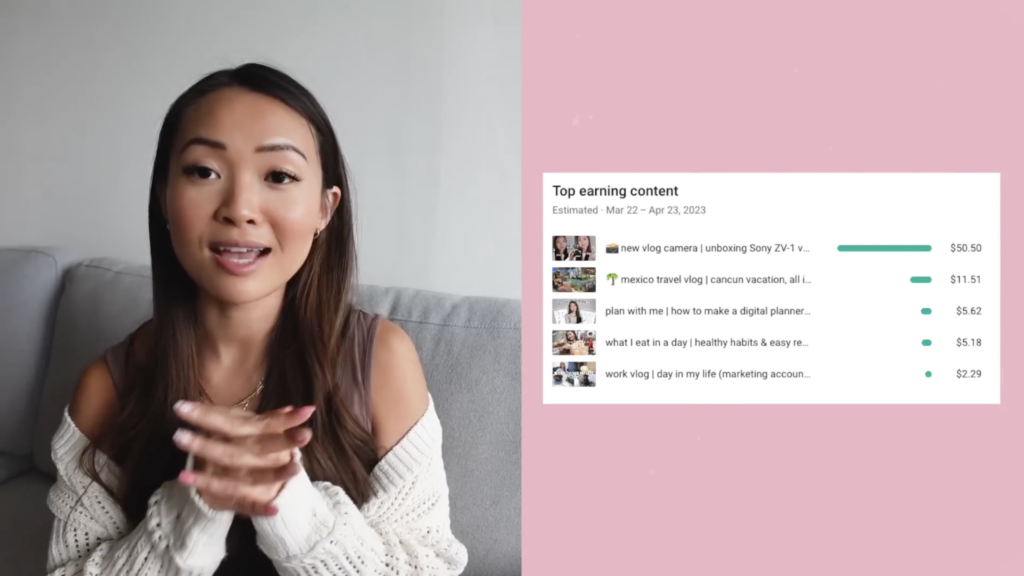 The grand total of what she made in her first month of being monetized was $85.5. Not bad at all. That could fetch more than a snack for a rat.
So, are there things to learn from Celine in terms of strategizing? Here are a few lessons from the Toronto-based YouTuber:
YouTubing can be more rewarding if you don't give up initially. You can take breaks when you want to, but don't let other people's opinions change what you want to do with your time, especially if you are passionate about it
Achieving 4,000 view hours within 12 months can be harder (than getting 1000 subscriptions)
Before achieving monetization, motivate yourself to continue working by seeing YouTubing as a hobby
Consider YouTubing a side hustle (at least in the early stages)
Celine: Income at a glance:
Estimated daily income: $47
Estimated weekly income: $329
Estimated monthly income: $1,425
Estimated yearly income: $17,096
Before I leave, are you wondering how to achieve a YouTube breakthrough like Celine? Well, the answer is easy, isn't it? Learn to study how successful people made it, and success will find you, too, even if you stay in a rat-like cage. LoL
So it's time to go now. Coincidentally, my owner needs my attention (he can be a boring punk, though).
Sincerely,
-Buster