Ever Wonder How YouTubers Make Millions of Dollars?
We break it all down in our new podcast. After you click the button below hit the
"Listen On Apple Podcasts" link and subscribe to discover the truth.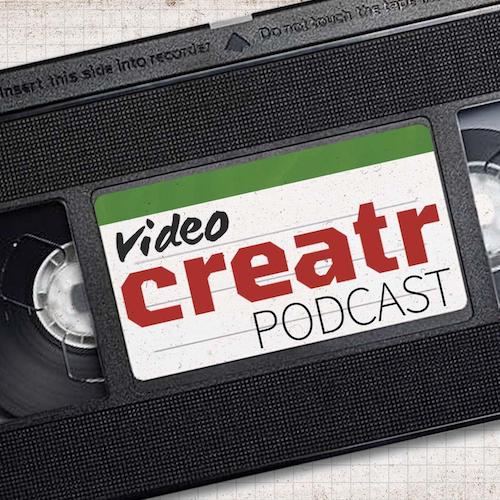 Did you know that almost 70% of surveyed B2B companies struggle to generate leads?
However, it's not just B2B companies that struggle in this avenue. 61% of marketers, in general, list lead generation as their top struggle.
You aren't selling a product/service or converting someone into a customer if they're not initially a lead.
As the statistics above indicate, leads don't generate from thin air. Your business exists in a landscape teeming with information and competition. Getting in front of potential clients and engaging and tracking them requires finessing, nuance, and deep-dive market research. Without execution on these fronts, "surviving the jungle" becomes exponentially less likely.
So, what techniques can help your company capture the attention of viable leads in a sea of noise, distractions, and competition?
According to LinkedIn, 90% of surveyed businesses cited increased lead generation due to video marketing. Moreover, almost the same percentage of surveyed companies said video marketing boosted sales.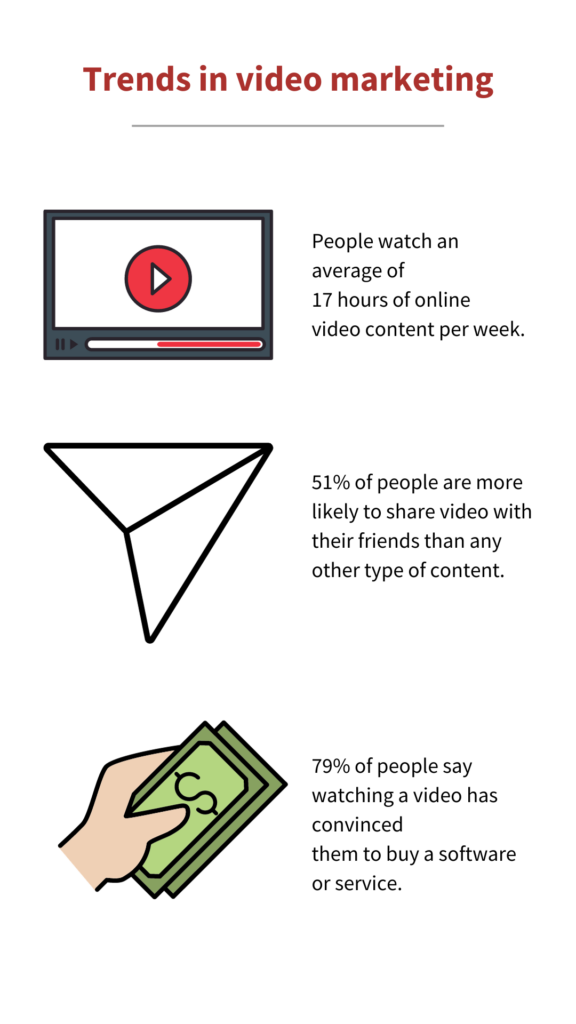 Why Is Video Marketing Successful At Generating Leads And Increasing Sales?
Before getting into the specifics of video marketing, we'll explore why it should be a priority for almost anyone trying to market products, services, or brands.
Look only as far as your average person peering into their phone screen–they won't be challenging to find. More often than not, they'll be looking at videos, and they'll usually be produced by an online influencer on TikTok, Instagram, YouTube, etc.
People watch online videos–on average–for one hundred hours per day. Compare that to the average time people spend reading–the average 35- to 44-year-old spends 9.6 minutes daily doing so.
Those numbers would likely be far less lopsided if this article were written–say–three or four decades ago. Yet, these days, videos are at our fingertips. They're ubiquitous–available whenever we want them and wherever we are.
Combine the immediate availability of videos with our natural inclination to respond better to such content, and it's clear why videos are so potent as marketing tools.
On the above note, the human brain processes visuals faster than text at a 60,000 times higher rate. You can tell your brand story much more quickly and impactfully on video than you ever could with text.
Now, you might argue that online banners–for instance–with a striking visual component provide audiences with a graphic. Yet, these images are limited by still motion. A picture can say a thousand words–but a constant-motion video can say much more and get the information to stick more effectively.
What Types Of Marketing Videos Are Best For Lead Generation?
Some videos are better for brand recognition. Others are good to spark a conversation. You could even make a video to show appreciation to your customers.
Conversely, some marketing video types are more catered toward lead generation.
It can be rightfully pointed out how something like generating brand recognition is indirectly generating leads. After all, you can't generate leads if nobody knows your company exists.
All the same, the marketing video types we discuss below will help directly generate leads. Decide which option would work best for your company, products, or services. Some might make sense, while others won't fit. What's important is knowing your options and deciding from there.
Almost 80% of those surveyed have learned more about services/products or the companies that offer/make them through testimonial videos. Around 67% of survey respondents are likelier to purchase after seeing another customer's testimonial.
Testimonial videos leverage social proof and the psychological concept known as the bandwagon effect.
Your potential customers will feel more comfortable doing business with you when they see other customers are satisfied. They want evidence affirming that their investment in your products or services will be money well spent.
Nearly 85% of businesses incorporating explainer videos on their landing pages are satisfied with the results.
Explainer videos break down complex problems, product/service concepts, business challenges, etc. They're typically animated and dedicated to simplifying and streamlining complicated theories, making them more digestible.
Publishing such videos in the right place at the right time in front of the right eyes can introduce your products/services, offer a product demo, or answer frequently asked questions to/for a lucrative audience.
Most importantly, explainer videos will garner attention from your target audience and spark interest in your brand.
According to LinkedIn, businesses can gain an advantage in combining characters and narratives targeted to their unique audience with animated videos. In fact, around three-quarters of your audience is likelier to purchase your product or services if they see a promotional, animated video.
Animations give you more creative freedom than live action, expanding your options for explaining a concept, telling a story, or highlighting your brand.
One of the most effective ways to capture a target audience's attention is by offering them something of value.
The above notion is rooted in the reciprocity technique utilized by many marketers. You offer customers something valuable upfront without asking for anything in return. The recipient of this valuable offering will then feel innately obliged to repay the favor. It's a natural psychological response.
Think, for example, of when you last gave someone some recognition on a social media post. They likely repaid the favor. The same goes for something in non-internet life, like a birthday present. Free tutorial videos tap into reciprocity marketing principles. You're giving potential leads advice to get the best use of your products, even if they haven't purchased them. Viewers will be far likelier to buy from your brand if they decide they need what you're selling.
You need your brand to resonate with your target audience. Leaving a lasting impression is impossible when your business doesn't have a personality. Lacking in this department means blending in with the rest and coming across as paint-by-the-numbers.
Brands with resonant personalities develop equity among consumers and establish their attitude in the marketplace, driving results in your marketing campaigns.
Now, you can't spell "personality" without "personal," and nothing is more personal than a live video. You're putting yourself out there for all viewers to see, interacting with them in real time.
You can offer a behind-the-scenes peek into your processes, giving your audience transparency into your practices and establishing trust.
Product demos and Q&A are two other options that offer opportunities for back-and-forths with those watching.
Maximizing Your Social Media Strategy With Video Marketing
More than half of social media marketers cite reaping more success when using videos to meet their objectives than text-based or still-motion posting methods.
Social media video content is responsible for helping 93% of businesses generate new customers.
Nearly half of all users on social media enjoy videos more than other content types.
We've referenced these statistics to illustrate a point. If you're making videos, leveraging social media platforms to their fullest is a must. Otherwise, you won't be maximizing the total value of your videos.
Repurpose Videos for Social Media
There's only so much time in the day and only so much money in your budget.
It doesn't make business sense to make separate videos for each social media platform. It's an inefficient practice. You have other pressing responsibilities in your role, and putting too many resources into production will diminish the return on investment.
Still, every social media platform has its own formatting and best practices for videos.
Audiences on Instagram and Facebook–for example–prefer different types of videos. Your video analytics on each platform will speak to this notion.
While such factors might seem like a massive obstacle because of the time and budgetary constraints we've discussed, there's a difference-making workaround you can use to your advantage.
Namely, you can repurpose your videos across all platforms.
Your 45-minute YouTube product demo could be transformed into many thirty-second Instagram Reels or Facebook Stories. A 10-minute telling of your brand story on LinkedIn could be repurposed and divided across your other platforms for an endless number of proceeding posts.
A single video can be turned into seemingly endless variations of marketing collateral.
All it takes is one recording session, and you'll fill out your video marketing calendar for weeks–if not months–on end.
Publish On The Right Platforms
Repurposing across platforms might be highly efficient, but it'll be less efficient if you're not publishing in relevant spaces.
Facebook is 30% 25 to 34-year-olds primarily, the most dominant age group, and is 56% male. 18 to 24-year-olds make up 30% of Instagram users and are 21% of all users on TikTok.
These are generalized stats and shouldn't be treated as gospel. However, we point those stats out to show how each platform has a different audience.
That said, after performing market research, you might find a niche of users that goes against the typical grain on a given social media platform. Tapping into niche audiences requires a keen eye for marketing insights and consistent interaction with users across social media, which video marketing will help with.
About 70% of surveyed marketers claim that video ads perform better than plain text and image ads on Facebook.
In general, ads on social media yield an average ROI of $2.80 for each dollar spent. Given that videos outperform other ad mediums, it's not a stretch to assume video ads on social media exceed the average ROI.
On top of that, when you pay for advertisements on social media, you get more perks–it can't be denied.
The platforms in question will allow you to better target your paid video ads to reach a more extensive, relevant, and lucrative audience that makes sense for your brand.
Sponsored posts, in-stream ads, and other forms of paid video ads on social media can help generate leads far more seamlessly than organic posts. It's worth noting the added stakes here. You're investing more money, so the risk is more significant. Strategy and execution must be on point.
Prioritize Audience Engagement
Social media has changed the way people relate to brands. It used to be that interactions were one way. Companies would advertise on TV, in the newspaper, on billboards, on the radio, etc.
Customers couldn't respond directly in the days before social media. Now, you can put out videos, and customers can respond directly. They can comment in the ensuing thread or reach out via DM.
Use this to your advantage. Respond to your audience (in a unified brand voice). Also, don't be afraid to leverage and share user-generated content. These efforts help build a community surrounding your organization and brand.
Stay In Tune With Your Results
Without monitoring something, you can't manage it, nor can you improve it.
A plethora of analytics tools (many of them free) are available to give you crucial insights into your marketing videos and the results they generate.
Focusing on metrics like engagement, views, and conversions can tell you the type of videos that resonate most with your audience.
As we head to the conclusion of this article, be mindful of the importance of video quality. All the analytics, insights, and keen strategies in the world can't successfully compensate for poorly made videos, which will hurt your brand's credibility.
Need Help Making Top Tier Videos? Look No Further Than VidChops
Creating videos that generate leads depends on various factors. You've got to make the right kind of video that speaks to your audience, and it has to reach them on the appropriate platform. All of this is easier said than done.
The market research, creative juices, and overall resources required to make exceptional marketing videos that elevate your brand can stretch you thin.
Furthermore, your videos need to have substance, but they also must have a professional sheen. Unless you're an expert editor, that's a tall order, especially with everything else on your plate.
Fortunately, we've got your solution! With VidChops, all you need to do is upload your raw footage, fill out our form, and we'll produce a completed product in two business days or less. Get started with VidChops today!