Ever Wonder How YouTubers Make Millions of Dollars?
We break it all down in our new podcast. After you click the button below hit the
"Listen On Apple Podcasts" link and subscribe to discover the truth.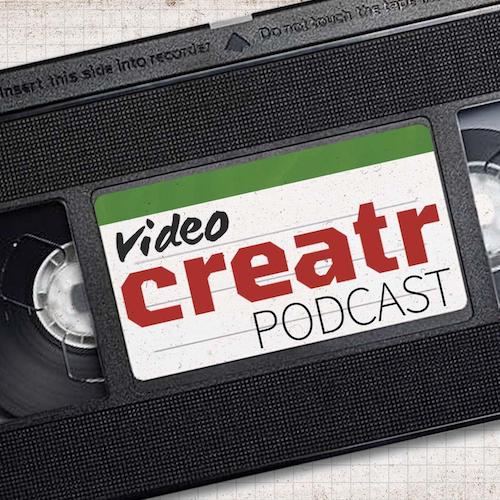 A couple of years ago, YouTube was the place to go for banana bread recipes and sourdough tips. Cooking videos are still popular, of course, but mass interest in turning out the perfect loaf has waned.
Audiences have evolved and are tuning in to more sophisticated content catering to their individuality. This holds true even for major entertainment categories.
Want to know exactly what kind of content that appeals to today's viewers?
We examined data and research from YouTube, Ipsos, Google, and Statista to find out. We spotted dominant themes and crazes that content creators can tap into right now, along with a few burgeoning trends that will put you ahead of the pack.
Here's a breakdown.
Most Watched YouTube Videos in 2022
We'll start by going over the most watched YouTube videos for 2022. Here's a list of the top ten: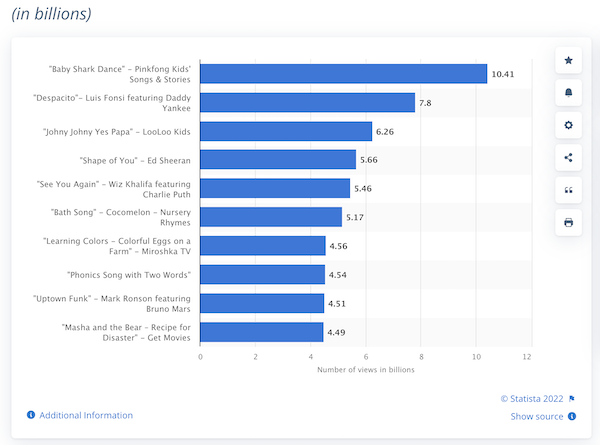 Pinkfong Kids' Songs & Stories: Baby Shark Dance
Luis Fonsi featuring Daddy Yankee: Despacito
LooLoo Kids: Johny Johny Yes Papa
Ed Sheeran: Shape of You
Wiz Khalifa featuring Charlie Puth: See You Again
Cocomelon – Nursery Rhymes: Bath Song
Miroshka TV: Learning Colors – Colorful Eggs on a Farm
ChuChu TV: Phonics Song with Two Words
Mark Ronson featuring Bruno Mars: Uptown Funk
Get Movies: Masha and the Bear – Recipe for Disaster
Those are the dominant videos for the year. Spot any similarities?
The list is completely made up of children's entertainment and music videos! That's fairly significant. YouTube's best-performing single videos seem to be catchy and educational children's entertainment, with a few record-breaking music releases making an appearance.
This is great news for anyone who likes making fun videos suitable for children. But where do other content creators fit in?
It's tough for independent content creators to win in direct competition for views with global superstars like Ed Sheeran or Daddy Yankee. These creators can be found ranking in niche subcategories.
The YouTube channels with the most views in 2022 are: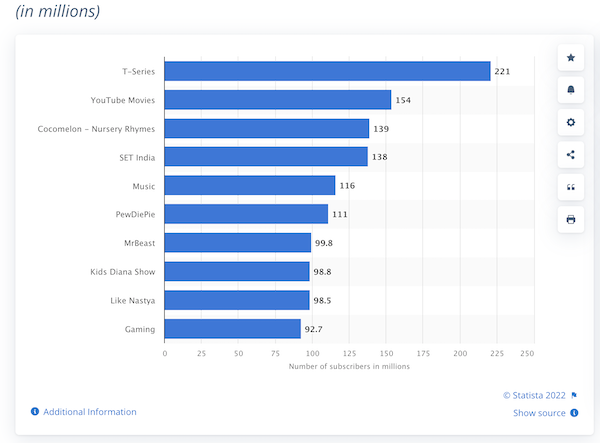 T-Series
POPS Kids
Cocomelon – Nursery Rhymes
Like Nastya
SET India
BCC Gaming
MoniLina
Sony SAB
Vlad and Niki
SMOL
Indian and Korean music channels have virtually taken over YouTube's music views. Indian content providers include T-Series, Zee Music Company, Shemaroo Filmi Gaane, and Wave Music. And Korean content providers include BLACKPINK, BANGTANTV, and Hybe Labels.
These channel views and subscriptions are all driven by massive, dedicated, multinational fanbases. Korean pop music is now a global phenomenon. Top K-pop groups BLACKPINK and BTS (BANGTANTV) are raking in the views.
BLACKPINK even had a record-breaking music video release with the single Pink Venom. Pink Venom was 2022's biggest 24-hour music video debut to date and YouTube's third-largest 24-hour music video debut of all time to date.
The Indian subcontinent has over 1.7 billion people and approximately 459.23 million of them are YouTube users. Indian fans are loyal to home-produced content, regularly tuning into Bollywood, local artists, and Indian-centered content.
Superstar Justin Bieber, Brazilian record label Canal KondZilla, and American electronic producer Marshmello are also ranked high.
YouTube's Most Popular Children's Channels
YouTube is officially not for children – at least not for unsupervised use by children under 13. And yet, it seems to be one of the biggest digital childminders around.
81% of all American parents with children aged 11 or younger confess to letting their children watch YouTube videos. 53% of parents have a child who watches YouTube daily and 35% have a child who watches several times per day.
There's a massive market here.
The most popular children's channels by subscribers are:
ChuChu TV Nursery Rhymes & Kids Songs
El Reino Infantil
LittleBabyBum
Masha and the Bear
Ryan's World
Galinha Pintadinha
CVS 3D Rhymes & Kids Songs
Peppa Pig – Official Channel
ToyPuddingTV
Bounce Patrol – Kids Songs
Parents and children are tuning into child-safe content that's engaging enough to hold a child's attention while providing a little education. Both animated content and child stars are making it big.
Animals, pets, and cats have always been big on YouTube. Right now, the biggest animal channels feature a little more personality.
People aren't just tuning into live feeds of kittens and puppies anymore. They want a pet YouTuber who seems a little more human.
One kitty is breaking new records. Puff, a ragdoll cat from New York City, is officially in the Guinness World Records for the most views for a cat on YouTube.
In April 2022, That Little Puff made world records with 7,532,180,184 views. That's an astonishing accomplishment – especially since Puff's channel only launched in 2020.
Puff's channel doesn't just show natural footage of his daily activities. This is a very active cat who features cooking videos and shows his viewers how to make treats like a delicious strawberry smoothie. Puff makes sure to stay relatable with content around how frustrated he gets and what he's excited about.
His videos draw the attention of animal lovers, cat fans, hobbyists, ASMR lovers, and general browsers. Here's something else that's interesting. Puff started out on TikTok and then funneled viewers over to his YouTube channel.
Multi-channel content is a burgeoning strategy that we'll get more into a little later.
What's Gen Z Into? ASMR and Memes
The Gen Z generation is between the ages of 9 to 24 right now. The older group of these pop culture drivers are immersing themselves in soothing content designed to relax, comfort, and take them away.
Think with Google to identify this emerging trend. Gen Z is heavily stressed out and anxious. YouTube is a popular coping mechanism for them. A 2022 study found that 83% of Gen Z respondents use YouTube to relax, with 90% watching YouTube videos to feel like they're in a different place.
Gen Z's viewing habits include ASMR videos, cottagecore, nature films, high aesthetic content, and transportive videos.
The standard ASMR footage is still dominating, along with anything that feels "oddly satisfying". Gen Z is also tuning into hours-long recorded or live streaming videos. Natural landscapes, animal live streams, ethereal visuals, cottagecore scenes, and footage set to meditative music is popular.
Content from exotic locations does well with videos designed to provide an immersive experience of being in another place.
Younger viewers are looking at everything from shorter sensory-rich clips to long ASMR and ongoing relaxing background footage.
Fandoms are huge and diverse, with creative content communities growing around them. Indie creators are finding a ready-made audience and room to stand out through content made for and by fans.
Community creativity is interactive. Fans, enthusiasts, and hobbyists make content around fragrances, music artists, dance moves, tv shows, literature, events, the red carpet, and more.
Fans produce creative content of their favorite artists, reaction videos, analysis videos, and in-depth reviews.
This trend has led to the rise of professional fans. Companies and brands are now incorporating fan-made videos as official content.
YouTube hasn't suffered with the growth of TikTok or Instagram. In fact, it's benefitting from them through multiformat content.
Multiformat content means content that takes place over several mediums, channels, or forms. For example, posting short clips on TikTok or Instagram with full versions on YouTube. Or posting YouTube shorts on social media.
It's a great way to drive traffic, being one reason why That Little Puff is so popular.
59% of Gen Z reports discovering content on short-form video apps that they go on to watch longer versions of.
Nostalgia and Comfort Creators
For some reason, Gen Z is heavily into nostalgic footage and a digital comfort zone. 82% of Gen Z reports watching content that brings feelings of nostalgia. Their nostalgia includes links to online personalities – or parasocial relationships.
Parasocial relationships are the relationships, real or perceived, between content creators (or other celebrities) and their audiences. These are mostly one-sided with audiences providing an extraordinary amount of emotional energy, time, and interest, while the content creator is mostly unaware of the individual audience member's existence.
At this point, Gen Z is familiar enough with content creators to find them comforting. 69% of Gen Z respondents agree that they find themselves returning to content and creators who feel comforting to them.
Memes, Remixable Content, and Responsive Creativity
Gen Z is into memes, remixed content, and media representation of daily life. They make them and watch them. A full 63% of them follow one or more meme accounts.
Anything that's fleeting and funny is in. The global Gen Z population watches memes about celebrities, pop culture, religious life (e.g., Ramadan), cultural activities, cats, and more.
Many of these videos feature remixed content, with creators sourcing from around the world and from different areas of life.
This is a great way for content creators to tap into a current pop phenomenon. Surprisingly, corporate involvement is welcome here with 57% of Gen Z liking brand involvement in memes. This may give content creators room for brand collaborations without negative feedback.
YouTube's Gaming Videos
YouTube viewers interested in gaming are still watching long-standing stars like Markiplier, MrBeast Gaming, jacksepticeye, and PewDiePie.
Here are the 10 most subscribed YouTube gaming channels:
Fernanfloo
Mikecrack
Markiplier
Total Gaming
Vegetta777
Dream
Techno Gamerz
MrBeast Gaming
jacksepticeye
Talking Tom
They're also tuning into gaming communities built around popular games. Elden Ring content is winning out right now.
In terms of YouTube viewership, Elden Ring has beaten GTA 5, RDR 2, Super Mario Odyssey, Zelda: Breath of the Wild, and Skyrim. It got 3.4 billion video views within 60 days, making it one of the biggest gaming launches on YouTube ever.
People are watching Elden Ring walkthroughs, montages, and captured footage.
Tapping into 2022's YouTube Trends and Themes
We've spotted a few consistent viewing trends that content creators can tap into. Here's a quick recap of what's driving views:
National pride and international superstars
Content for thriving fan communities
Children's entertainment
Personality-rich animal videos
Soothing ASMR videos
Calming and relaxing nature
Charming cottagecore
Memes and memeable content
Multi-format videos
High aesthetic content that takes viewers away
There are so many ways for content creators to tap into this. People are watching content based on music, entertainment, and hobbies. Much of this is driven by national or cultural pride. But viewers also want to watch things that are personal to them or bring them comfort.
Think with Google reports that 73% of people describe good content as something that's personal, relevant, and related to their passions.
Content creators can tap into this with videos that remix current pop culture phenomena, go in-depth into other media, showcase their lives, or transport their viewers.
Try making short, snappy, visually creative videos to capture interest. Or longer, aesthetically driven content.
That does require quite a bit of editing. Want to get those videos made without doing any of the hard work? Try out Vidchops now.