Ever Wonder How YouTubers Make Millions of Dollars?
We break it all down in our new podcast. After you click the button below hit the
"Listen On Apple Podcasts" link and subscribe to discover the truth.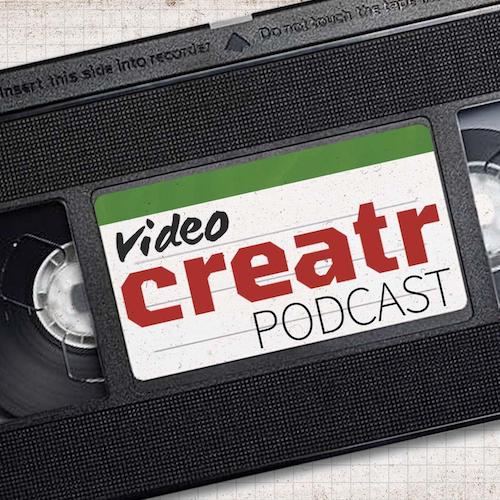 The rise of the internet has opened up a vast array of affordable advertising options for small to medium enterprises. Now you can run video ads on Facebook, YouTube, or your choice of social media platform to get your message out to a targeted audience.
But just because advertising is more affordable and customized doesn't mean that most people get it right.
Pattern-interrupt ads are commercials that run on social media platforms without viewer choice. If you own a small business that DIYs pattern-interrupt ads, make sure your ads don't get stuck in the Facebook or YouTube swamp. To craft engaging video ads that resonate with your audience, read on for top tips and tricks.
What do you need for a successful video ad?
1- Decide on a target
If you don't have a target, you don't know where to aim. You'll wind up scattering your shot—in this case, your ad spend—in all directions without achieving your aim. So, at the beginning of your advertising video creation, decide what you want to accomplish. what end result you want from that ad video.
For instance, here are some purposes for YouTube ads: building brand awareness, influencing buyers' decisions, and building brand loyalty.
Building brand awareness
You'll show these ads to absolute or relative newbies. They don't know much–or anything–yet about your product or service. Target people who've shown interest in similar offerings and areas, so you know you have a chance of eventually converting them.
Influencing buying decisions
You've already primed the pump with these people, and they may be ready to buy. Ask them.
Building brand loyalty
These people are now your customers. You can show them more of your offerings or show them video testimonials of other happy customers to reinforce their decision.
2- Solve a problem
How will your business solve a prospect's pain point? A good video ad will spotlight a problem and show viewers how your brand will solve the problem. This is the most important part. Your prospects are not interested in your product or ad quality but if you have a solution for their problem then definitely they will engage with your content and brand.
3- Use a script
Come up with a crisp, solid script for your video ad that makes every second count. Create a script that tells a story.
Using the first two tips, you should have a good idea of your script. You've got to have a well-put-together script before shooting your video. There's no need to wing it!
Let your family, friends, and business associates review the script—and the plan in general—before you move on. Ask your harshest critics because they'll give you the most constructive feedback.
4- The hook
Ah, the hook. Here this is back from high school to haunt you. If you didn't get it straight then, now you need to understand how to use hooks so you can craft an effective video ad.
The hook is how you begin your video, and it's absolutely critical.
You've got to capture consumers' notoriously short attention spans immediately—before skipping your ad or click away.
Almost all video marketing platforms—from Facebook to YouTube—allow their users to skip ads at least after the first few seconds. If you want users to watch your ad in full, you've got to come up with something interesting in the three seconds.
A video ad isn't like a movie where the climax is the most important part. Videos ads rise and fall with their beginnings.
How can you construct a compelling hook? Your story and purpose may help you out. If you're coming up blank, work on the other elements and return to this at the end.
An effective hook can be a statement that will spark the interest of those in your target market. Perhaps you can address a common problem, ask a relevant question, or share something that makes your brand stand out.
One problem with social media pattern-interrupt ads—at least from the seller's standpoint—is that they can be on mute. That means you'll need to start off with great visuals that encourage viewers to take an interest in your video.
5- Social proof
Viewers consider user-generated content (UGC) to be the most genuine, trustworthy content there is. Social proof is another side of the same coin—users trust a brand more if they see or hear from happy customers. The trust factor increases clicks and conversions exponentially.
In fact, Facebook ads that used some sort of social proof had 300% more conversions. But since social-proof ads generate more engagement, those ads also had a 50% lower cost per acquisition (CPA) and a 50% lower cost per click (CPC).
Engagement with Facebook ads boosts your relevance score. That gives you higher priority in the ad bidding system and can lower the cost of your ads.
Reviews sell, but don't use the word "review"—it comes off as too sales-y. Let the customers speak for themselves. But you can edit out multiple exclamation points. More than one exclamation point comes across as fake!!!!
You'll use specific kinds of reviews depending on whether people know you or if they're first-timers. When you're trying to gain clicks and traffic, use product reviews of specific items for top-rating, top-selling products.
Use reviews of top-rated, top-selling products to attract first-time visitors with specific items.
Why use your big guns? Those products will attract new visitors, but if they leave your site without purchasing, it's more effective to re-target them with site reviews. Site reviews reinforce your overall brand even if the visitors passed on a specific product.
6- Highlight what makes your brand great
This can overlap with other areas, especially social proof, but make sure you answer this for your viewers. Why should your viewers be interested in your brand?
Your video ad should answer this question by emphasizing what makes your company great at what it does. Tell viewers what sets your brand apart from the others. Humble-brag about your achievements and your track record of success. Better yet, have your customers do the humble-bragging for you in testimonials and positive feedback.
The more you showcase the benefits of your company, the more effective your video ad will be.
7- Call to action
A call-to-action (CTA) is a phrase that tells viewers what actions you want them to take and how to take them. It doesn't have to be fancy. The shortest, most direct CTA is "Buy Now!" Actually, "Sign Up" is also short, but it's not nearly as compelling as "Buy Now."
A CTA is crucial to your advertisement. In most cases, you might as well not even run an ad without a CTA. Without one, your viewers will have to hunt around for what to do next.
And we all know that goldfish have longer attention spans than people, and if people can't find what they need fast, they're gone.
No matter what you want to accomplish with your video ad, you won't do it without a well-crafted CTA. You may not be shooting for a sale with your video, but you should aim to move prospects further on the customer journey.
CTAs have two primary purposes: to tell prospects what to do and motivate them to actually do it. If you don't answer the "why" part, your conversion rates will be lackluster.
Time is of the essence for video ads, so make sure your viewers know upfront what action you expect them to take. You
Some CTAs are short, while others are longer. Here's a long-tail CTA from the text of a Lyft Facebook ad: "Download, request, and ride. New users, enter code 50 FB for up to $50 in free ride credit." You know why you should do it, and you know what to do.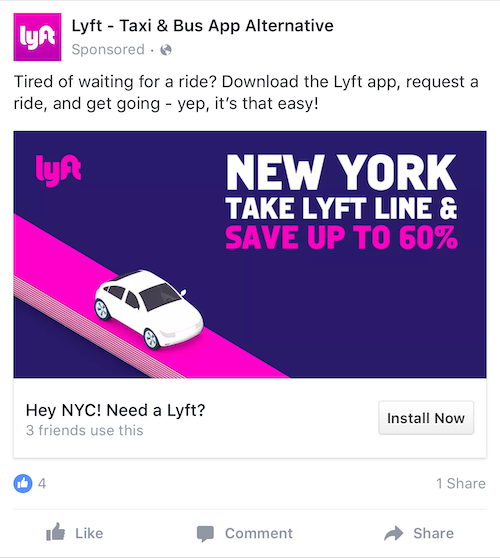 Another Facebook ad from the mattress company Purple uses what may appear to be a weak call to action. At the bottom right of the ad, there's a "Learn More" button. However, the button is paired with a powerful "why" in the video accompanying the text.  The video features a woman building a pyramid of cards on her Purple mattress. The pyramid remains intact after her partner jumps on the bed. That's an extreme example of Purple's primary selling point: your movements won't disturb your partner.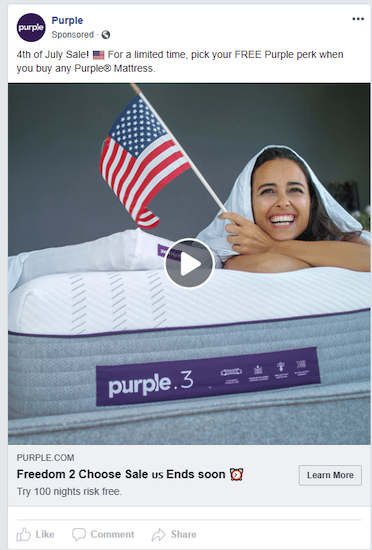 8- Think about whether to include subtitles
Keep in mind that many advertising videos that pop up on social media don't include sound. You'll want to make sure your text and visuals convey your message.
One way you can do that is by inserting your own subtitles. You can use colors to emphasize words, which can improve retention and engagement.
Not sure how to do that in a way that looks professional? Outsource that part to a video editing service like VidChops. With VidChops, you upload your raw video, complete a form, and get your finished product back in 48 hours. No tearing your hair out or staying up all night required!
9- Better visuals and audio
Visual quality can make or break your online advertising. Viewers these days are sophisticated, and they'll take their eyes and their clicks elsewhere if your content looks amateurish.
In everything you do, you want to come across as genuine and trustworthy. Still, you also want to communicate that you do business in a professional manner. Why should people trust an amateur?
Here's where a video editing service like VidChops can work wonders. You'll shoot raw video with an iPhone or and Android and deliver it to us. We'll clean it up and showcase you and your business in the best possible light.
All of our subscription plans include a stock video that we'll use to totally exceed your editing expectations. Just ask your VidChops editor to include it, and they'll do it.
Yes, we said your editor. Every VidChops subscription includes a dedicated video editor and a 14-day money-back guarantee.
VidChops can optimize your audio for you, and all subscription plans include stock audio. Again, just ask your VidChops editor.
10- Don't Overdo Editing
While editing is good, make sure not to go overboard, otherwise, the video will end up looking caricaturish.
Here are a few common mistakes:
–       Increasing brightness too much
–       Adding funny fonts
–       Using excessive filters
–       Introducing several transitions and effects
Your video should look neat and professional. Try to get your hands on an editing tool that lets you see how the final product will look before you apply an effect so that you can quickly decide if it's worth it or not.
Not sure how to work in video editing tools? VidChops will be happy to help! Let Vidchops edit all your videos for you.
Conclusion
Congratulations on being proactive and getting your video advertising out there! Now let's make sure your videos are head and shoulders above the others in your space so you can win the battle for potential customers' hearts, attention, and eyes. Get in touch with VidChops today to learn how we can help you turn out polished, professional-looking video ads.