When I created VidChops, I had only one thing in mind.
I wanted to free YouTubers, marketers, and business owners from the time-consuming burden of editing videos. I'm a YouTuber myself, so I know how many painstaking hours it Vidchops is a one-stop solution for all your post-shoot editing needs. It's a subscription-based service to take care of all your video editing requirements in exchange for a small monthly fee.
We managed to create a process to quickly turn your raw videos into finished. Our processes enable us to take down the turnaround time to 48 hours.
We'll assign you a dedicated editor and you can make unlimited requests for video editing and revisions. We employ professional editors who are well-versed and greatly experienced in enhancing the quality of videos.
Our turnaround time is just 48 hours once the request is received. Our subscription plans can be found here with full details.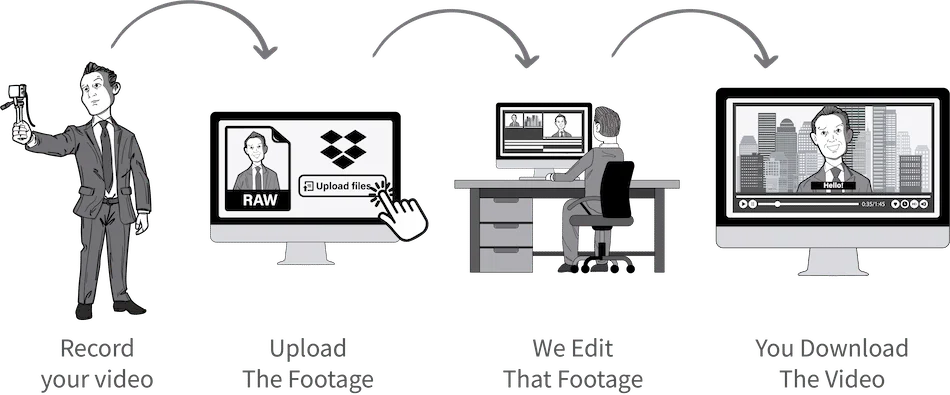 Welcome aboard. Right after you've chosen your pricing plan and subscribed, you'll be asked to sign up on our portal and complete the onboarding form.

What's that for?

An onboarding form is crucial for our editors to get to know you, your preferred style, among other preferences. This step makes your video uniquely yours. In case you need to add even more info, click your profile name on the upper right-hand corner of the Portal and click on profile and add info. Don't forget to save!

Then, we'll assign you to the perfect editor for the job within 8 hours of signing up. You'll also receive a welcoming e-mail from us within 24 hours or less.
Now you know how we operate, we are very excited to work with you and help you with your editing needs. Our client list is a hundred strong and growing ever-so rapidly, with more than 3300 editing projects completed.
Our Pricing plans are designed to provide maximum value for money. You can contact us if you have any questions; our terms and guidelines can be found here.

Vidchops is a flat rate, subscription video editing service built to help you make better videos, grow your business, and save you a ton of time.
With Vidchops you enjoy unlimited video editing requests and revisions. Your dedicated editor will handle your day-to-day edits so you can focus on more important things.