Ever Wonder How YouTubers Make Millions of Dollars?
We break it all down in our new podcast. After you click the button below hit the
"Listen On Apple Podcasts" link and subscribe to discover the truth.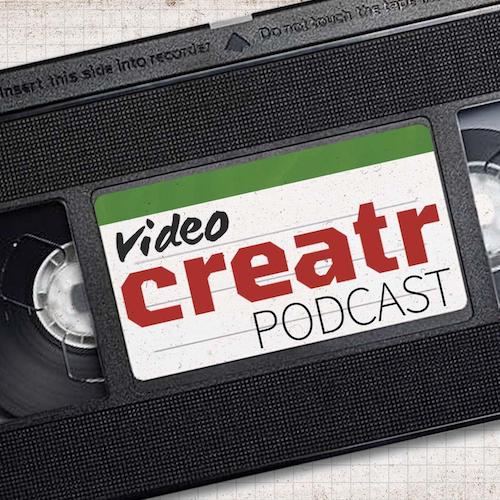 Many people now prefer watching videos to reading texts. Videos receive 1,200 times more shares than images and text combined. So, if your marketing efforts are not leveraging videos yet, you're missing out.
YouTube is the most known video platform, boasting up to 2.6 billion active users. Unfortunately, not everyone who posts videos on YouTube gets impressive views.
What makes one video command millions of views while another posting the same content only gets a few? The answer is YouTube SEO.
What Is YouTube SEO and How Does It Work?
SEO entails optimizing your YouTube channel and content to rank highly on the platform. Like Google, YouTube uses a certain algorithm to determine how videos rank. The goal is to ensure users get the best content and a wonderful experience.
Two main algorithmic factors will determine how well your content will rank:
a) Technical SEO: Tell YouTube what your content is about by looking at things such as transcript titles, descriptions, and tags.
b) Human SEO: Determines whether people like your videos by looking at watch time, click rate, engagement, and retention.
So, when optimizing content for YouTube ranking, you must ensure the platform understands what your video is about and what's likely to attract your audience.
Incorporate terms and phrases that people will likely use to view content like yours. Also, try optimizing your videos for longer watch times so YouTube sees that people love your content.
A YouTube channel that gets several comments and likes is also more likely to rank higher than one that doesn't have such engagement. YouTube looks at the value that your content brings to the audience by considering the engagement of your viewers.
And since Google owns YouTube, the two platforms interact. When someone searches a term in Google, the search engine also presents video content from YouTube relevant to the search. Therefore, it's important to optimize your videos for YouTube as well as Google searches.
So, what's so special about YouTube SEO?
Optimizing your videos for the search engine gives you a better chance to get more views, likes, comments, and subscribers. As long as you target the right audience, getting to the top won't be a problem.
In fact, the YouTube ranking algorithm prefers that you focus on getting the right audience more than creating a beautiful video. Come to think about it, what's the point of spending time and money creating a beautiful video if no one is going to view it? So, by solving the customers' problems, you're already optimizing your videos by 90%.
YouTube SEO is also important for inbound marketing. Marketing is no longer just about publishing loads of content and optimizing it for search engines.
Good content now incorporates written work, images, and videos. Once you get this, the next thing to do is optimize them for search. That's where YouTube comes in.
Tips to Optimize Content for YouTube
Now that you understand what YouTube SEO is, how it works, and why it's important, it's time to get to work. So, how do you ensure YouTube discovers your content and gives it a higher ranking?
Here are tips and strategies that work.
Like Google ranking, you also need to find the right keyword to focus on if you want to rank on YouTube. When you type the keyword in the YouTube search bar, the algorithm will search for the right content to match the word.
Keywords are the first things that will bring traffic to your content. You must target the right keyword to increase your YouTube SEO efforts. Before posting a video, watch it again to pick up the main point or focus topic.
Use various keyword research tools such as Ahrefs, SemRuch, or KeywordTool.io to find the right words for your YouTube videos. However, don't just pick a keyword because it's the most popular. Make sure it matches your niche and your specialty so that you remain relevant to your audience.
2. Come Up With the Right Title
Almost 90% of your viewers will find your video through the title. The keyword must fit in your video title naturally. It will help the title fit what the viewer is searching for and ensure your video appears in search results.
However, just appearing in the search results is not enough to convince viewers to watch your video. Be creative with your title because this is what will determine whether someone clicks the video or not. The title should be compelling enough to convince the viewer to click.
Your title should include the keyword to help it rank and a clickbait to convince the viewer to watch. Make sure you keep it short and clear. Don't exceed the recommended characters in the description.
3. Add the Right Tags to Your Video
While tags no longer work on SEO for Google, on YouTube, it's still a huge ranking factor. YouTube considers these tags to determine the subject of the video, index it, and recommend other related videos.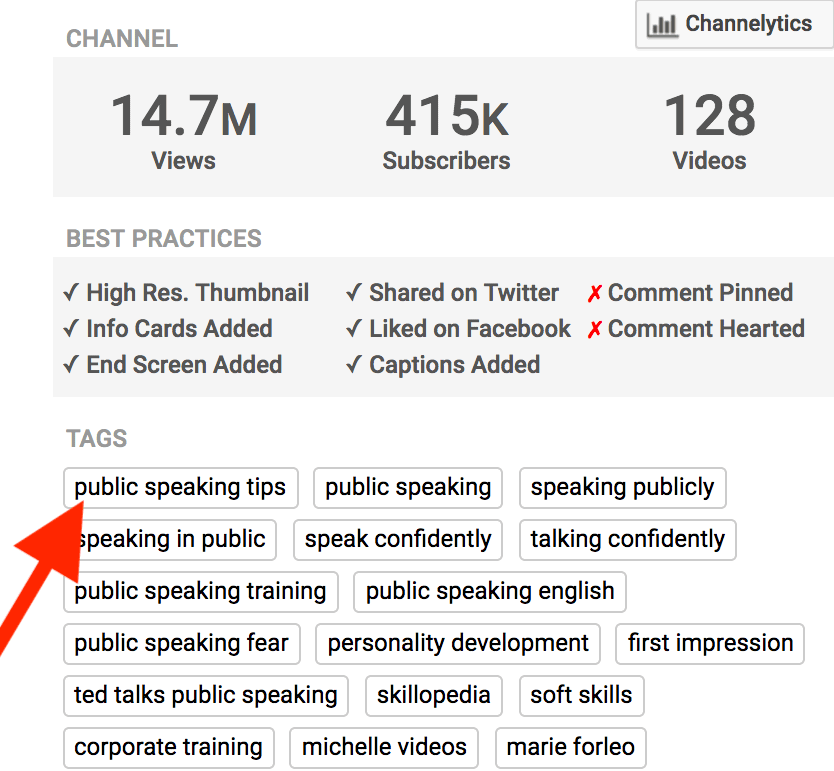 When YouTube associates your video with similar ones using tags, it helps broaden your reach so that you can attract as many viewers as possible. Tags will help your videos appear in the 'Up Next' section, which helps improve your chances of getting views.
However, don't just pick a tag because you think it can potentially bring in more views. Of course, you have as much freedom as you want with tags. You can choose many different keyword variations but make sure you stay relevant.
4. Optimize Your Video Description
YouTube also allows you to talk about your videos using the description part. This is an opportunity to help your viewers and get them to watch or take whatever action you want them to take.
You have the freedom to write up to 250 words in the description. However, 150 is usually enough if you have all the valuable information and the keywords to help you rank.
Remember that YouTube will only display 1 to 2 lines of your description. If your readers want to read more, they can click "Show More" and open the full text.
However, this rarely happens because YouTube visitors come there to view videos and not read text. That means you must use the first two lines of your description wisely if you need them to read the text.
Some tips you can use to have a highly optimized and successful video description include:
1. Make it as natural as possible
2. Insert relevant keywords in the first 1 to 2 lines
3. Research popular keyword terms to help you attract traffic
4. Don't violet Google's policies with irrelevant terms
5. Make Your Videos Longer
Longer videos always rank better than shorter ones. If you don't believe it, try searching for a popular keyword and see the videos on top. They're pretty lengthy.
The average time for videos appearing in the top 5 results is 11 minutes. Those videos with 2 minutes or less usually rank very poorly. This means that for your videos to rank better, they must be at least 10 minutes long.
Longer videos mean you'll have a pretty good watch time and a chance to engage your viewers. YouTube pretty much ranks videos by looking at the watch time. It's also right to believe that the longer your viewers stay on the video, the more revenue YouTube makes.
However, don't be boring and irrelevant just because your videos are lengthy. Don't sacrifice quality and relevance in exchange for longer videos. There are other factors that YouTube considers when ranking your videos, so even if you achieve a good length, you might not rank if you fail on the other parts.
6. Create a Good Video Thumbnail
Like the video title, the video thumbnail will also determine whether a viewer will click the video. The thumbnail also communicates the content of your video to the viewer.
Since your video thumbnail is an image, it can be a better clickbait than the title. People tend to process visual information much faster than they do with text. So, you have a higher chance of attracting viewers with a good video thumbnail.
YouTube usually assigns a thumbnail by picking a random shot from your video. But most of the time, the auto-generated thumbnail won't be attractive enough to attract views.
You need a visually appealing thumbnail that can convince people to click. YouTube recommends keeping it at 1280 x 720 pixels, which is equal to a 16:9 ratio. This will give you a high-quality thumbnail image that will help increase viewers for your video and improve your YouTube SEO.
7. Encourage Viewer Engagement
Don't take those likes and comments for granted because they improve your ranking. YouTube considers every comment, like, or subscription a vote of confidence in the video, hence a good factor for ranking.
While some viewers will just like or comment on a video without anyone telling them to, you can as well encourage others. You can end or start your videos by telling your viewers to take these four actions:
a) Like
b) Comment
c) Subscribe
d)Share
You can also engage with your viewers by thanking them or replying to their comments. Your audience will feel valued and will always engage more with you if you respond to them. More engagement means gaining more confidence with YouTube and ranking even higher daily.
8. Create Playlists for Your Videos
When you have playlists for your videos, they'll play one after the other. Your viewers will not just watch one video from your channel and leave but will have a higher chance of playing the next video in your playlist. This will increase the overall watch time and improve your ranking.
To create a playlist, add more videos to your library, then sort them according to keywords. The playlist will be a good way to signal YouTube about what your videos are about, thereby increasing your visibility.
Playlists also help you get in touch with other creators who create similar content to yours. You can also ask them to add some of your videos to their playlists as long as the keywords match.
9. Add Subtitles and Closed Captions
Subtitles help attracts people who have hearing difficulties and also help boost your engagement by highlighting important keywords. Google crawls your subtitles and captions, boosting your YouTube SEO.
You can use the subtitles or captions that Google helps you generate automatically. However, sometimes these captions can have errors.
The best way is to create your subtitles and closed captions and make your YouTube videos SEO-friendly.
To do this, you need to download a timed subtitle file or a supported text transcript. Or you can use a much easier option that involves entering the transcript text for a video directly so it automatically syncs with the video.
10. Check Your YouTube Analytics
Following everything mentioned above takes hard work and dedication. You don't want to put in all the work and not see results. The only way to check whether your efforts are paying off or not is to check your analytics.
By checking your analytics, you can find out what's working. This way, you'll know what action to take. The good news is that YouTube has an in-built analytics function to make this work easy.
Some of the analytics that YouTube can help you check to include the following:
1. Watchtime
2. Impressions CTR
3. Traffic sources
4. Card CTR
5. Unique viewers
6. Subscriber growth
With video content being the most consumed currently, video platforms such as YouTube are becoming highly competitive. If you can't find ways to increase your visibility through YouTube SEO, people will not discover your content. And if you're planning to earn money from your videos, it will take you years before you get a single cent.
YouTube SEO is one of the best ways to beat the competition and make your content pay. You just have to follow the tips outlined in this content and improve your ranking.
Remember, nothing happens in a day, and it will take time before you see actual results. You have to be patient while tracking your analytics at the same time.
And, of course, you have to create high-quality videos too. You won't stay on top for long if your videos are shoddy and poorly edited.
So, as you work on improving your YouTube SEO, also remember to work with a good video editor to give you quality content.
Vidchops is a subscription based video editing service. You can hire a dedicated video editor with us. Our expert video editors will help you rise to the top with the best quality videos. We help you get those high-quality videos that will keep your viewers glued to the screen from start to finish. Subscribe to our video editing service and get unlimited videos per month.