Ever Wonder How YouTubers Make Millions of Dollars?
We break it all down in our new podcast. After you click the button below hit the
"Listen On Apple Podcasts" link and subscribe to discover the truth.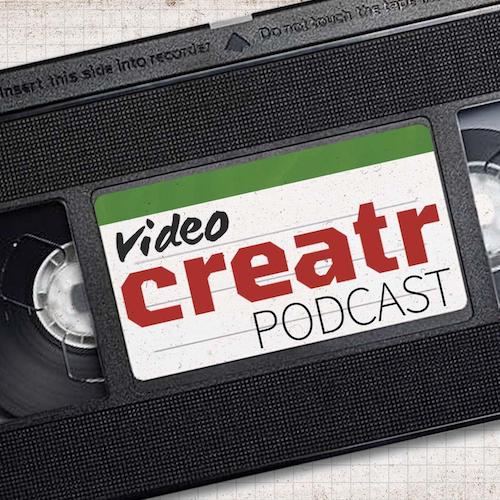 If you are in the content creation industry, you probably know it's not a walk in the park. You spend a lot of time finding creative works before filming or recording and share on YouTube or other platforms. With all the effort, it's sickening to think about another YouTuber copying your work and using it for their benefit.
However, YouTube appreciates content creators' efforts and protects their work, for that matter. If you have been on YouTube for a while, it's more likely you've heard about copyright claims and copyright strikes.
Copyright claims and copyright strikes are familiar and scary terms on YouTube—and understanding their meaning and difference is undeniably essential for content creators.
What are Copyright Claims and Copyright Strikes?
What are Copyright Claims and Copyright Strikes?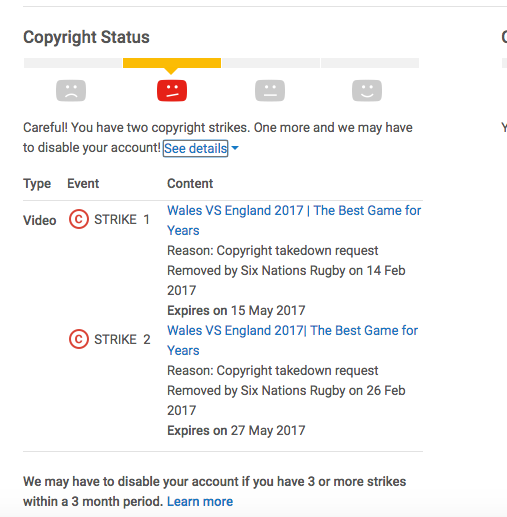 A copyright claim, also known as a Content ID Claim on YouTube, occurs when a person uploads content copyrighted by someone else without the owner's consent. YouTube copyrights new content posted on a channel automatically and has specific tools that help the legitimate owners identify copyrighted materials.
The owners can decide to claim ownership of the content, monetize the content by allowing ads to play on the video and receive all the revenue, or choose not to do anything. Once they claim ownership, they can also block the video in specific locations. However, the uploader also has a right to dispute the claim.
Copyright strikes happen when the legitimate owner decides to take down your content. They can initiate a claim, but YouTube ultimately takes down the video. A strike is usually more severe and affects the entire channel, unlike copyright claims that involve a particular video or other content types.
First, your channel loses its ability to monetize YouTube videos, and you can also not stream from the account or post videos longer than 15 minutes. Also, the account gets terminated permanently if you receive the third strike, and you become banned from creating another YouTube channel. However, you can still use your channel after the first and second strikes, but it will not be in good standing. The first strikes usually expire after three months, during which you will need to take YouTube's Copyright School courses.
Managing Copyright Claims
A copyright strike is a more severe blow than a copyright claim, but they are not always life-ending to your channel. You have the option to dispute the claims, and in some cases, the copyright claims can be erratic.
Therefore, YouTube acknowledges this possibility and is not ruthless in responding to copyright claims. Besides allowing you to dispute the claim, you can also use other options to manage claims.
When a copyright claim gets issued against a video you uploaded, you can always see it on your dashboard, including the parts that match your video. Here, you need to assess the file and determine if you infringed any copyright.
It could be YouTube's automated copyrighted content detector that flagged the content while you have permission to use it or gave credit. Also, it could be just a track playing at an outlet where you made a video. In that case, you can proceed to file a dispute since you did not use any copyrighted content personally.
YouTube will provide you with a couple of possible reasons you believe the copyright claim is not valid, so you need to go through them and select the most appropriate. If, for example, you had permission to use the content, you should choose the reason 'I have a license or permission from the proper rights holder to use this material.'
Once you select the right option, click on continue and proceed with the prompts. You still have the opportunity to cancel in the next step or confirm that you are indeed sure about your reason for disputing the claim. If you confirm, the next stage will be about stating the copyright claim in dispute and giving a brief of why you are disputing. You will then prove that you had the right to use that content and append your name and signature.
At this point, you are through with disputing the claim, and YouTube will respond to the dispute in 30 days. During this period, ensure you actively check emails to avoid missing out on any questions or responses from YouTube moderators.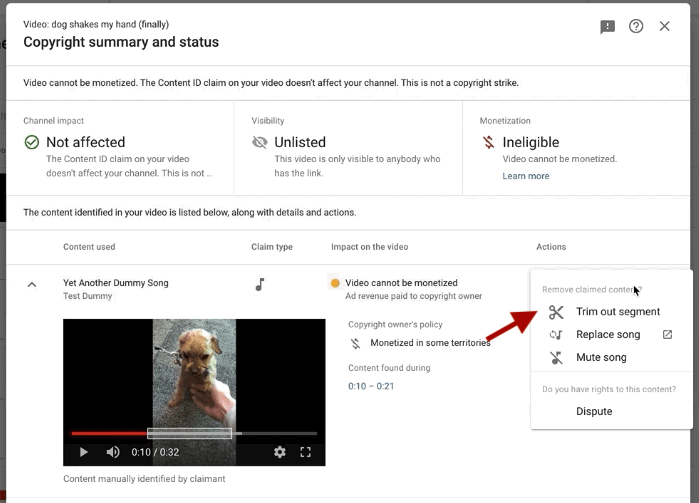 Most copyright claims highlight part of the video flagged, if not the entire video. Also, the claim can arise from background music or copyrighted soundtracks. If the claim arises from a section of a video you uploaded, you have the option of trimming that part.
However, it would be best to consider whether removing a part of the content affects the entire concept of the video. If it doesn't make sense, you can choose to have the whole file removed. It is also the best option if the copyright claim is legitimate, although the claim will always stay with your channel.
Recent updates on YouTube allow users to receive alerts when they are about to upload copyrighted content, so you can quickly replace content that you don't own before things get serious.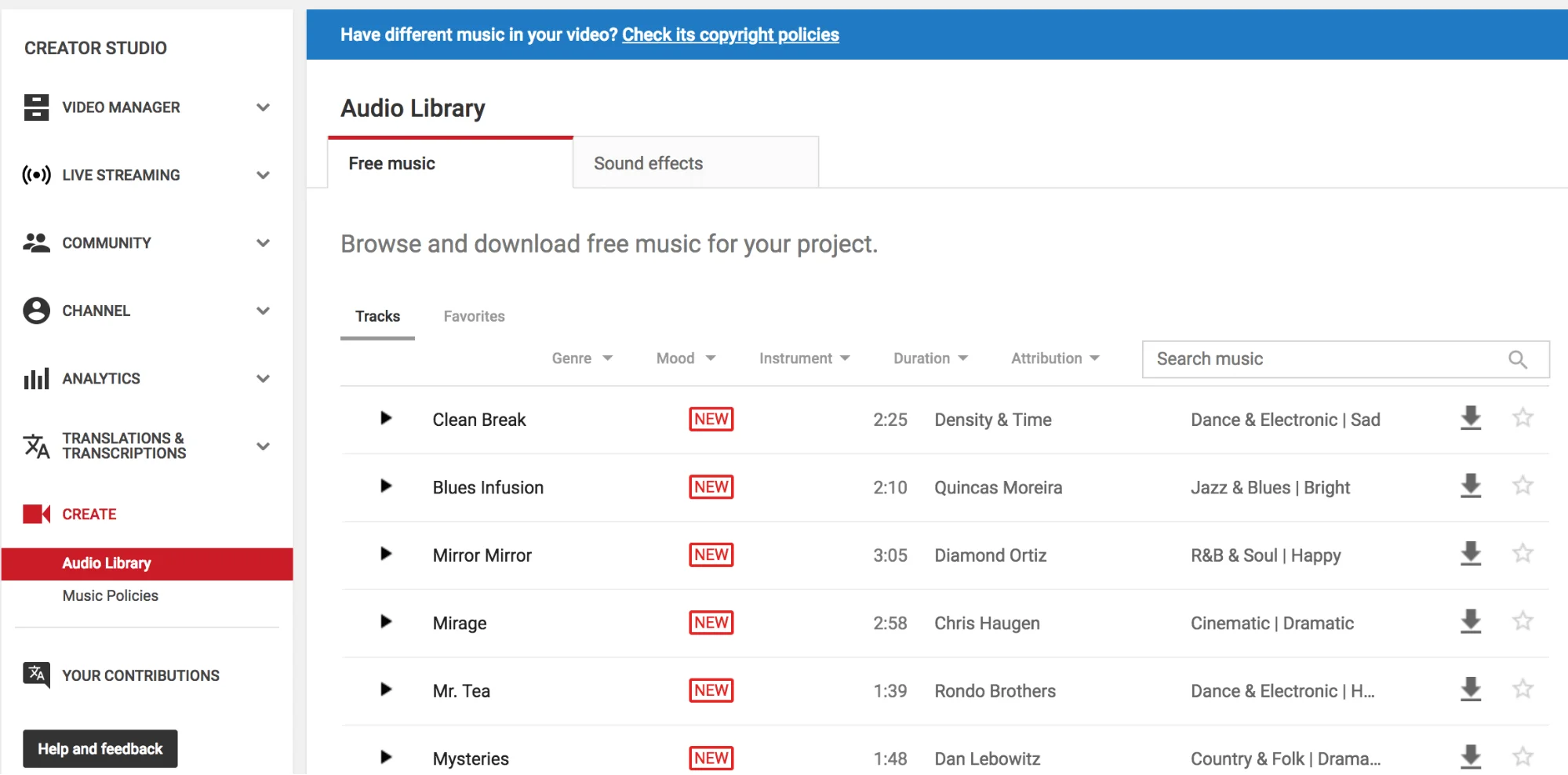 YouTube is lenient on its users and is keen to provide solutions for users who may get stuck with copyright claims. The YouTube library is an example of how the platform helps its users maneuver around some copyright policies without violating them.
The library is vast enough and provides free tracks that every content creator can find on the dashboard and use. You can always find a great sound for a YouTube video without worrying about copyright claims and strikes.
While it's easy for most YouTube users to detect a free library track, they are an excellent option for individuals just starting their channel or who lack the resources to invest in a great sound.
Some online libraries provide files, music, and royalty-free sounds so that no one can make a copyright claim on them. Most of them allow you to use a couple of the files for free before you can start paying for a premium subscription, but they can be an excellent way to avoid lifting copyrighted content. Some are even entirely free, and you can always use the music in your YouTube projects.
Such platforms are a perfect fit for those who love to upload content with background sounds or music, or if you've had a claim with past soundtracks, you can use music from these platforms.
Vidchops the best video editing service for content creators offers unlimited video editing and Royalty free music and Brolls. You can outsource your video editing to Vidchops.
Whether you are new on YouTube or are a seasoned content creator, the last thing you want on your account is a copyright strike. Claims are common and discouraging, but a strike means a lot worse. It is important to note that taking down your channel with all the videos may not be enough for a strike, and the legitimate content owner could press charges which can have severe legal implications.
Content creators should thus focus on creating and uploading original content. It saves you the trouble of managing copyright strikes and claims and ensures your channel remains in good standing. However, if your channel gets flagged for a copyright claim by any chance, the above tips are excellent options for maneuvering through the situation.